Define a reward. Create a discount; a coupon; a voucher. Expiry date. Validity period. Percent, dollar discount. Free Product. Free Service.
No matter where you are in Thirdshelf -- Loyalty, Campaigns Sign-Up -- defining a reward is done in a similar fashion, using the Reward-creation screen.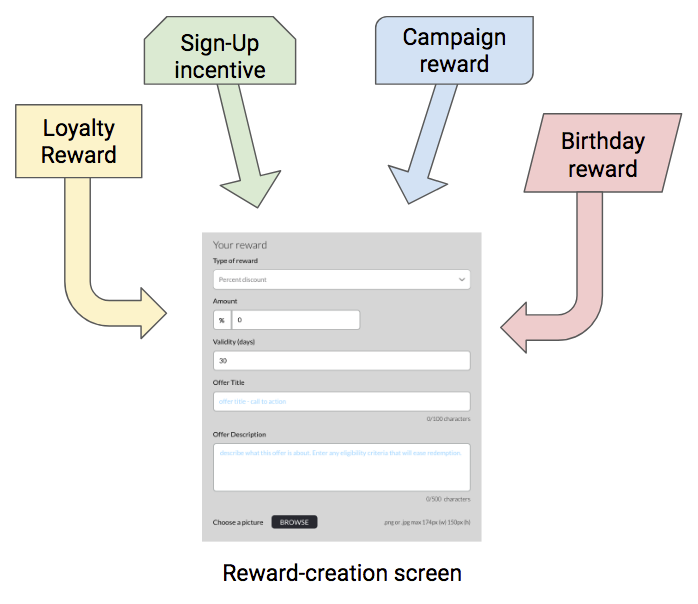 ____________________________
Understanding each item in this screen will make everything else you wish to accomplish much easier. Follow the explanations below closely:
The reward-creation screen
It is important to understand the impact of your choices for each item: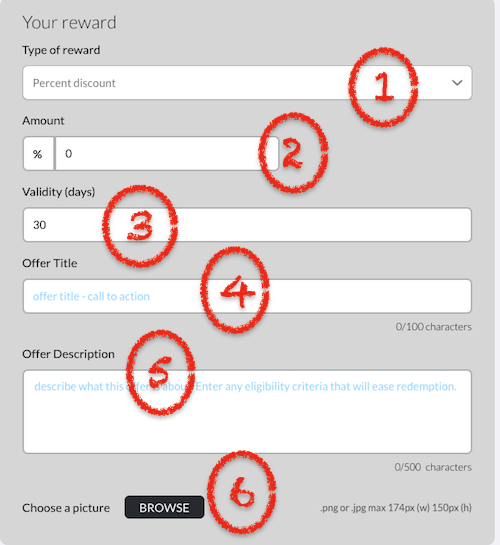 1. Type of reward
There are four types of reward throughout Thirdshelf:
Percent Discount

Dollar Discount

Free Product

Free Service
The first two are tightly synchronized into your POS system, and will create items in your POS for an automated, seamless integration between the two systems.
The latter two serve as an instruction for the sales staff at checkout that this customer has qualified for and earned this item. [The actual item must still be scanned at inventory.]
2. Amount
This field defines the value of either the percent discount or the dollar discount. This field disappears when you select Free Product or Free Service.
3. Validity
Number of days that this offer is valid for. It expires after this amount of time. The start time is the moment the offer is "earned". This can be any of the following:
A transaction that gave enough points to unlock the offer.

The send-date of an email campaign that contains an offer (this includes Birthday, We Miss You and Win Back.)

The moment a customer is signed up (for the sign-up incentive

).
4. Offer Title
This is arguably the most important item on this form. The Offer Title is the label of the offer, and should very clearly describe it:
GOOD OFFER TITLE: "$10 Birthday Reward"

BAD OFFER TITLE: "Happy Birthday!!"
Why is the Offer Title important?
The offer title is what is shown at checkout, when the customer is ready to redeem a reward. Having a clear Offer Title removes any ambiguity between the customer, sales staff, and your store.
For example, the reward might require a minimum purchase. Therefore, title it: "$25 off a purchase of $75 or more".
Example 2: You have several $10 rewards; one for signing up; one is a birthday reward; one is the reward at 200 points. Do not title them all "$10 off" or "$10 reward". Rather: "$10 Birthday Reward"; "$10 Welcome Gift" and "$10 loyalty reward".
5. Offer Description
Here, here you can be more descriptive and flowery in your writing:
"It's your birthday! Enjoy this $20 gift from all of us here at Store & Shop. Come in and treat yourself!"
A good practice for the the Offer Description:
Work in what they did to get it. Ex: "For every 200 points, get $10 off your next purchase". Or, "Welcome aboard! Enjoy this 10% welcome gift"
6. Choose a Picture
Last step, click the Browse button to upload a picture associated with this specific offer (you can start with your logo if you have nothing specific).
This image, along with the Offer Description and Offer Title move around as a block wherever the offer is used throughout Thirdshelf. This block may be used in the Monthly Digest and/or Thank You campaigns, for instance.