Reporting. Amount earned. Campaigns reporting. ROI. Campaign redemptions
Once you deploy a campaign you can track of its of performance with its card. These cards give you a quick and easy way to see how are you are doing and compare campaigns in your archive.
Whether you are sending an announcement email or an email with an offer, you will need to redeem the offer associated with the campaign in order to track it's performance as shown below.
Here's how these cards work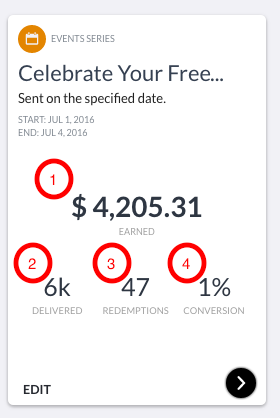 See how much money your campaign has generated for your business.

How many people fit the criteria of your segment and received your offer.

How many customers redeemed your offer.

The percent of customers who received your offer and redeemed it.